MeloMelo Kava bar is a modern kava bar with a traditional twist. Located in Santa Cruz California MeloMelo kava bar brings a hip trendy vibe to the kava bar community with lots of cool young folks and lots of welcoming lounge seating. In downtown santa cruz and open 7 days a week from 12pm to 12am and is unlike any other kava bars.
Lets check out their menu!
MeloMelo kava bar specializes in Kava-Cocktails with drinks like the Melo Ginger, a house made ginger syrup mixed with kava. Or maybe you'd fancy a Melo colada, tropical medley of kava, pineapple, and coconut cream.
Or maybe you'd like a traditional kava drink. Try a shell of kava from the south pacific islands a traditional beverage for thousands of years.
MeloMelo kava bar also offers a wide variety of herbal teas and sipping chocolates if you have a sweet tooth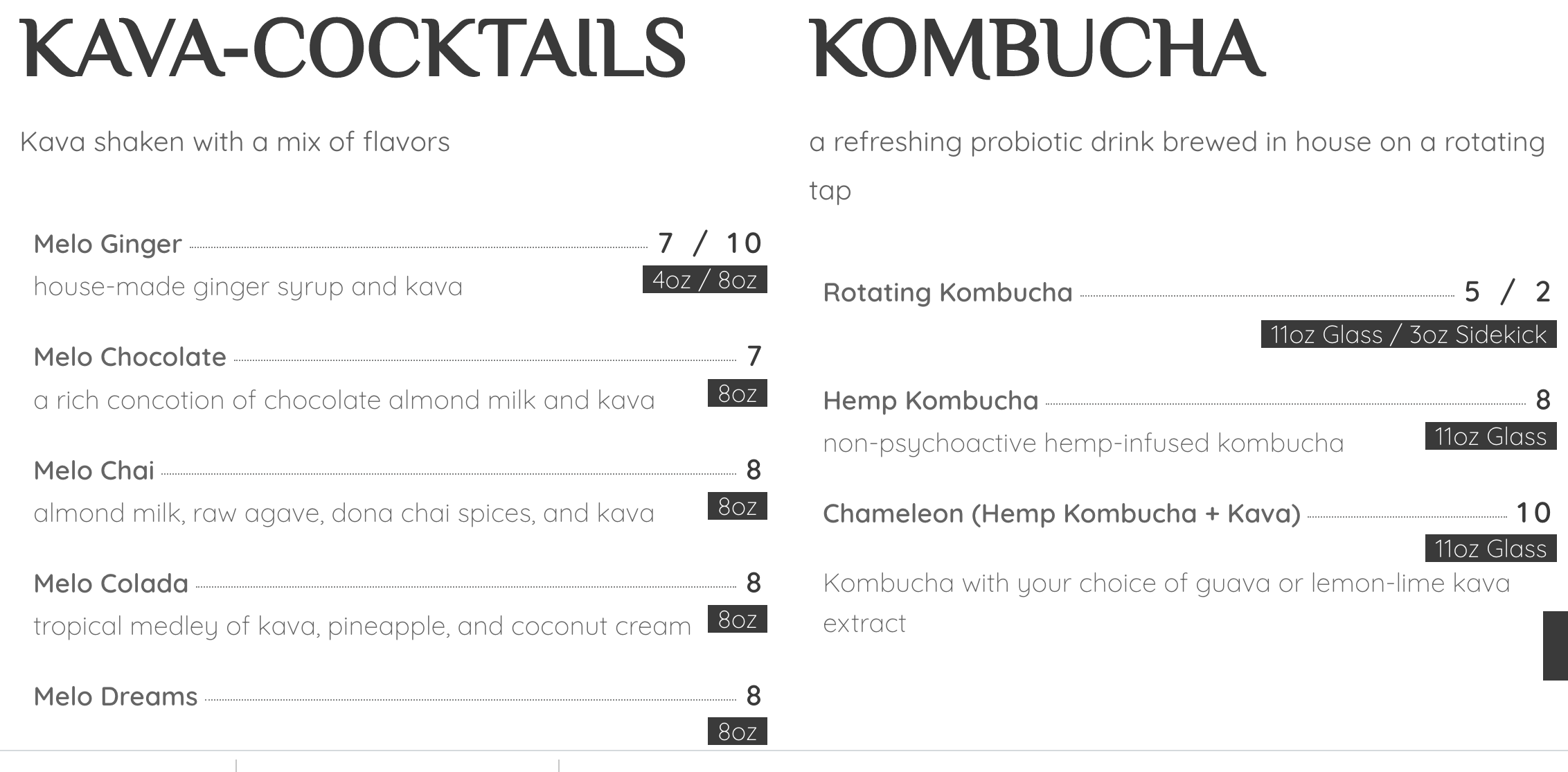 MeloMelo has weekly Events!
Start the week off with Music Mondays starting at 9pm and ending at midnight.
Tuesday's are Tidal Tuesdays where you can get Hide Tides for only $5 after 6pm.
Stop by for Whirlpool Wednesday and enjoy $2 Hide Tides starting at 10:00pm and ending at 10:10pm.
Get 20% off all day on Tanoas during Tanoa Thursdays
MeloMelo is a great place to meet super friendly people
MeloMelo Happy Hours
MeloMelo kava bar has daily happy hour starting at Noon and ending at 6pm
Buy 2 Purist or Kava Cocktails and get 1 on the house!
How do I find MeloMelo Kava bar?
MeloMelo kava bar is located at 1101 Pacific Ave suite d, Santa Cruz, CA 95060
on the corner of Cathcart st and pacific ave and can be a lovely spot on certain nights!
Hungry? Heres some nearby restaurants.
MeloMelo kava bar is located right across the street from Kiantis Pizza & Pasta Grill .
Hungry for a burger? Check out the Five Guys location right next door to MeloMelo kava bar.
More about MeloMelo Kava Bar.
California's first Kava bar! Kavas are drinks produced with roots derived from plants of the South Pacific. The beverage is used in this region of the world since 3,000 and was shown as giving relaxation to drinkers. In addition, the also have Kobucha and BCD on Tap!
MeloMelo Kava bar open three years ago and has three locations located in Berkeley, Santa Cruz and Oakland California. They offer a cool relaxing environment to meet people. Its a fun place to a traditional kava beverages as well as kava mixed drinks.
Frequently Asked Questions about MeloMelo Kava Bar
Do you still offer delivery service in Melo Kava? Melo Kava Bar offers take-out. Tell me the most convenient way to pay? Melomelo Kava Bar accepts cash and debt cards. What is the day that Melo Kava bar opened? MeloMelo Kava bars are open 7 days a week.
Features
Regions